The swift way to prostate relief
When you're suffering with an enlarged prostate, you want quick relief without complication. Laser surgery is a common procedure for treating an enlarged prostate in an outpatient setting with minimal discomfort. Recovery is typically much quicker than traditional, more invasive surgical techniques.
Safe in your doctor's hands
The advanced laser equipment offered by HealthTronics, Inc. is more reliable and safer than ever. With exact placement and the precision of laser energy, your doctor can work quickly and confidently. That means limited complications and delays.
We can really move
HealthTronics provides laser equipment which is portable. We'll bring it to your urologist. So even if your doctor is not currently affiliated with HealthTronics, we can provide your doctor with the right tools for the job.
Ask your doctor about which HealthTronics laser is the best one for your enlarged prostate treatment.
GreenLight™ Laser Patient Brochure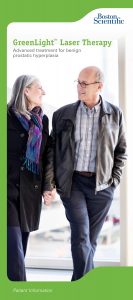 Quanta CYBER TM Laser Patient Brochure