Lumenis™ AcuPulse™ DUO CO2
Lumenis™ AcuBlade™ Scanner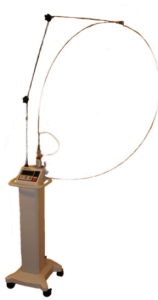 The Clinicon CO2 Laser Delivery System is designed specially for ENT Neurology and Spine applications. The SureGuide™ technology transmits the laser beam in the fundamental transverse mode (TEMoo) for the highest level of precision. This laser mode, unique to the SureGuide™ technology, guarantees high power density within the beam and provides virtually char-free cutting and ablation.
Specifications
Laser Type: CO2 Gas Tube
Wavelength: 10,600 nm
Delivery Devices: Rigid and flexible SureProbe™ fibers.