MRI/Ultrasound Fusion
Several systems are​ available to allow use of MRI information to target areas of the prostate for biopsies. Contact us for additional information.
EDAP Ablatherm® HIFU System
HealthTronics provides the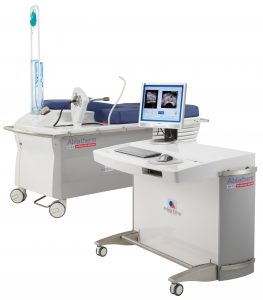 ​ EDAP Ablatherm® HIFU System on a mobile basis to sites throughout the US. Mobilization of equipment has been HealthTronics' specialty for over 30 years. The system is brought to a facility where the physician performs the procedure. HealthTronics provides a clinically experienced technologist to operate the equipment. In addition, HealthTronics' subsidiary United Therapies can accommodate physicians licensed in Illinois at its surgery centers. Various billing arrangements and patient financing may be possible.
Sonablate® HIFU System
HealthTronics can also assist with accessing the Sonablate® HIFU System through its network of providers throughout the US.
For additional information regarding HIFU, email HIFU@healthtronics.com.
Microwave Ablation
For healthcare providers needing sophisticated microwave ablation technology, the HS Amica

™

 system works by applying heat directly into the tissue through the probe, which agitates water molecules in the tissue, generates heat, and causes ablation of the tissue.  The HS Amica

™

 system is FDA-cleared for thermal ablation of soft tissue other than cardiac tissue and is typically used for ablation of liver, lung and kidney tissue. Its exclusive "mini-choke" technology provides optimum control of the microwave field within the ablation target.

AMICA™ Probe Features:

Patented device for reflected microwave entrapment (mini-choke): no back heating effects, enhanced control over the coagulation shape and size

Internal water cooling to avoid shaft overheating

Sharp trocar point for easy penetration into tissues

Ultrasound visibility

Embedded memory chip for probe identification

AMICA™ Generator Features:

Microwave output: up to 140 W continuous wave at 2.4 GHz

Constant monitoring of microwave delivery: continuous measurement of forward and reflected microwave power, automatic microwave inhibition in case of alarms or errors, self-diagnosis of microwave module

Essential and intuitive user interface: LCD touchscreen for browsing through menus

Automatic peristaltic pump for probe cooling: integrated in the generator

Portable and compact: light (12 kg) and small (45 cm x 38 cm x 13 cm)

For additional product information, click here http://www.hshospitalservice.com/